BREAKING!🚨🚨🚨
FULTON COUNTY, GA: @VoterGa presents evidence of duplicate scanned batches uncovered from ballot images obtained from lawsuit. Identical markings/writing prove ballots counted multiple times, compromising official certified election results! @RealAmVoice pic.twitter.com/yPVQ01AtEL

— Heather Mullins – Real America's Voice (RAV-TV) (@TalkMullins) July 13, 2021
Ware County, Ga has broken the Dominion algorithm: Using sequestered Dominion Equipment, Ware County ran a equal number of Trump votes and Biden votes through the Tabulator and the Tabulator reported a 26% lead for Biden.
In Georgia Alone, sworn testimony alleges: 2,056 felons illegally voted 66,248 under 18 voted 2,423 weren't registered 1,043 used a PO Box to register 10,315 died before the election 395 voted in 2 states 15,700 moved out of GA 40,279 changed county & didn't re-register to vote
WISCONSIN CITIES
that received the Zuckerberg CTCL Election Grants: City of Milwaukee: $2,154,500 City of Madison: $1,271,788 City of Green Bay: $1,093,400 City of Kenosha: $862,779 City of Racine: $942,100
BREAKING: Trump Team Says 40,000 People Voted Twice in Nevada
Robert Creamer was shoved aside Tuesday after a video sting showed him discussing large-scale voter fraud with an undercover interviewer
Footage also showed Creamer and his underlings admitting they send activists to Donald Trump rallies to start fights with his supporters
Creamer, who was an integral part of the Hillary Clinton presidential campaign's organizing effort, visited the Obama White House 342 times
The meetings included one in the Oval Office and several in the first family's residence 
White House records show him as a regular fixture at 1600 Pennsylvania Avenue even though he is a convicted felon
Obama's chief spokesman dodged questions
Another USB card filled with votes for Biden!
Trump team wins hearings in Arizona, Michigan and Pennsylvania legislatures on election concerns | Just The News
Huge news in Wisconsin, where a disability services coordinator has come forward with evidence that every single one of her more than 20 severely disabled clients had their vote systematically stolen from them. https://newstalk1130.iheart.com/featured/common-sense-central/content/2020-11-16-disability-service-coordinator-blows-whistle-on-vote-fraud-in-group-homes/?Sc=editorial&Pname=local_social&Keyid=socialflow
A Pennsylvania court just invalidated 2,349 absentee ballots in Allegheny County where the voter didn't date their declaration
Sydney Powell basically said today that the Dominion machines executives are tied to Soros and the Clintons. These people are now on the run and they closed their offices which they shared with Soros foundation in Toronto.
FBI Agents Arrest Cincinnati Democrat For Accepting Bribes in Exchange For Votes via @gatewaypundit
Georgia recount monitor, in a sworn affidavit, says he saw ballots for Trump being placed in the pile for Biden during the recount in Henry County. Other observers saw the same happen at four tables, always in favor of Biden. Source: https://courtlistener.com/docket/18632787/wood-v-raffensperger/
Donald J. Trump@realDonaldTrump
Big victory moments ago in the State of Nevada. The all Democrat County Commissioner race, on same ballot as President, just thrown out because of large scale voter discrepancy. Clark County officials do not have confidence in their own election security. Major impact!
Donald J. Trump  
@realDonaldTrump
"Second Georgia County Finds Thousands More Votes, Majority Are For Trump"
dailywire.com/news/breaking-
Two men have been charged in a 41-count criminal complaint after they allegedly submitted thousands of fraudulent voter registration applications on behalf of homeless people (NBC Los Angeles).
BREAKING: The Trump Campaign has just announced that they have evidence that 15,000+ people voted in Nevada have also voted in another state
VOTER FRAUD: Couple charged after submitting thousands of fraudulent voter registration forms
·
Worse than that, the evidence will show that
#Dominion
and
#Smartmatic
were created for the precise evil purpose of rigging elections for corrupt rulers. And the companies are foreign owned, created with communist money.
@realDonaldTrump
@LLinWood
twitter.com/LLinWood/statu…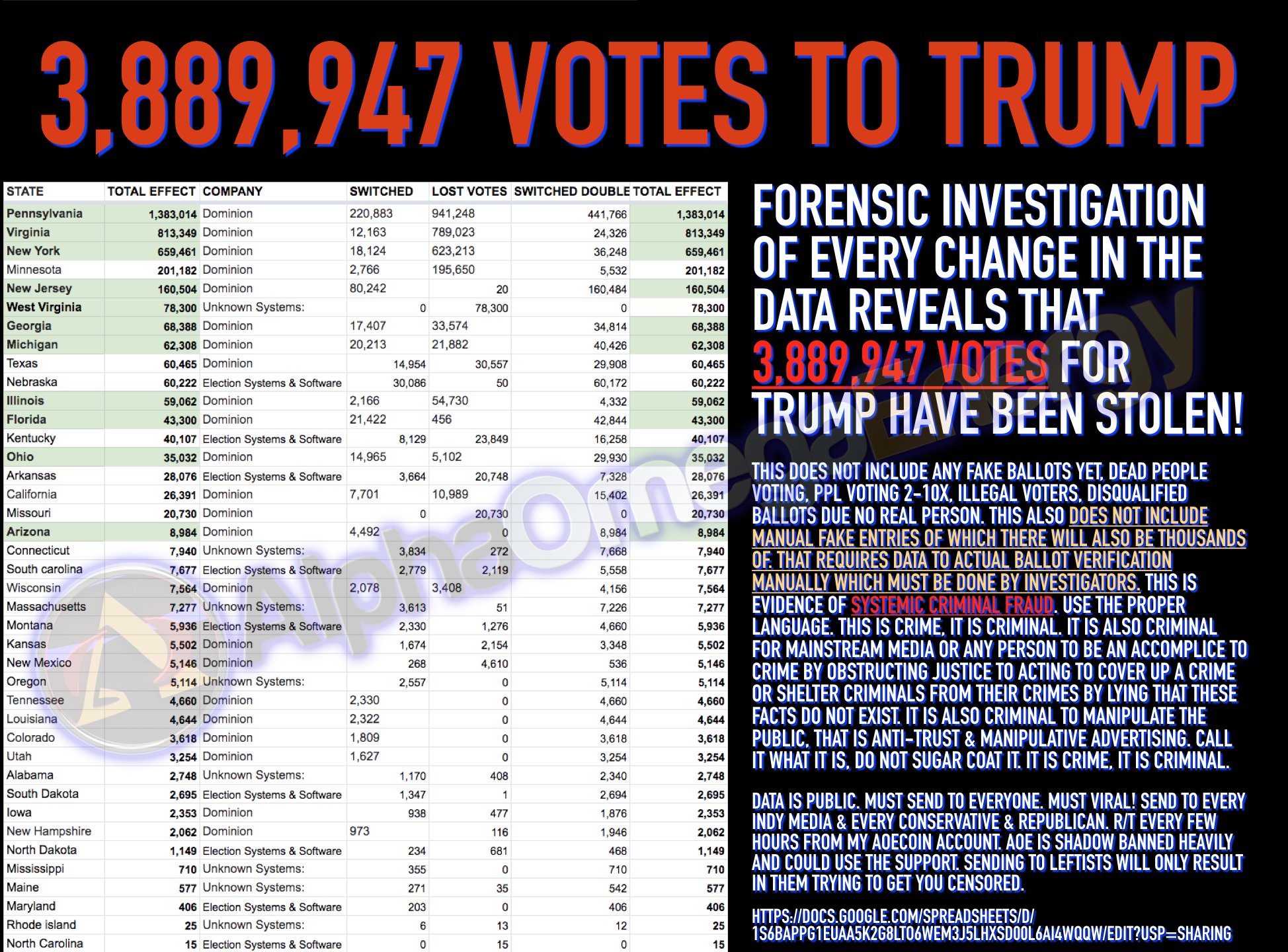 https://politicalite.com/usa/dirty-democrats-biden-campaign-director-arrested-amid-electoral-fraud-allegations/… via
Rudy Giuliani breaks it down here: https://youtu.be/sd-5Xm5PFmg
So far, we have 234 pages of sworn affidavits alleging Election irregularities from just ONE county in Michigan. Here are the allegations:
#Biden

Campaign Director Arrested For Electoral Fraud

thepointnews.uk/2020/11/15/bid

via

@The

Point News

EYEWITNESS saw a batch of ballots where 60% of them had the SAME signature
EYEWITNESS saw a batch of ballots scanned 5 times
EYEWITNESS saw 35 ballots counted that were NOT connected to a voter record
EYEWITNESS saw poll workers marking ballots with NO mark for candidates
VOTER said deceased son was recorded as voting TWICE
EYEWITNESS said provisional ballots were placed in the tabulation box
FAILED software that caused an error in Antrim County used in Wayne County
Republican challengers not readmitted but Democrats admitted
Republican challengers physically pushed from counting tables by officials
Democrats gave out packet: "Tactics to Distract Republican Challengers"
Republican challenges to suspect ballots ignored
"Peter Neffenger, President & on the Board of Directors of Smartmatic … just so happens [to be] on Joe Biden's Presidential transition team.
And that's only a few of them, Mick. The potential voter fraud we're uncovering in Michigan is UNPRECEDENTED.